Format & Payout for Sprint Car Challenge Tour at Peter Murphy Classic
admin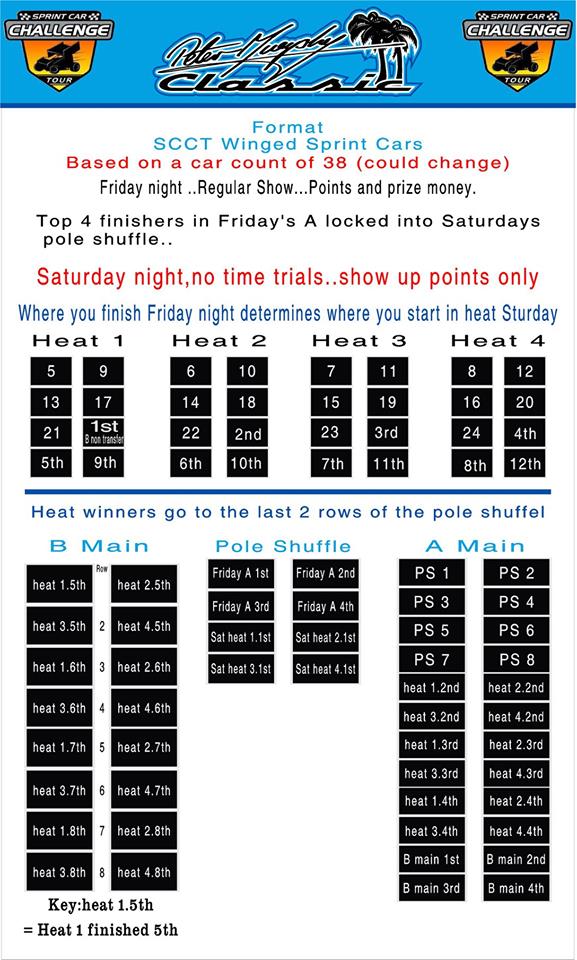 This Friday nights event at Thunderbowl Raceway in Tulare will be a full Sprint Car Challenge Tour presented by Elk Grove Ford and Abreu Vineyards point show, while Saturday's program features a special format and will award show-up points only.
The top-four finishers in the main event on opening night will be locked into Saturday's Pole Shuffle and the way you finish Friday is how you are seeded going into Saturday. There will be no qualifying for SCCT on Saturday night.
Event organizer Peter Murphy wanted to tie both nights together for the Sprint Car Challenge Tour and with a lot of special things planned for Saturday, eliminating qualifying should help save some time and extra abuse on the surface. Drivers meeting will be held at 4pm both nights with cars on track shortly after. We are shooting to have the first heat race on track at 6pm.
Opening night will be a standard $2,500-to-win/ $400-to-start SCCT purse, with Saturday's finale handing out $5,000-to-win and a stout $800-to-start. Each position down the line has been doubled for the final night. Teams that have not missed a race up to this point are eligible for the $500 Kyle Larson Racing Bonus if they can win the main event either night.
Fast time will hand out $500 cash on Friday, plus the usual prizes from Quick Time Mortgage ($100 cash) and ADCO Driveline & Custom Exhaust ($100 certificate).
The Hard Charger Award on Saturday will be $500 cash plus the usual $200 certificate from Pit Stop USA. The Pole Shuffle on Saturday will be $500 cash to win plus the usual $100 cash from High Sierra Industries. The Hard Luck Award will pay $500 cash plus the usual prize from CRV Carbon Solutions and the Longest Haul will receive $500 cash as well.
The standard Sprint Car Challenge Tour muffler rule will also be utilized each night.