KING OF THE WEST-NARC SPRINT CARS TACKLE THE PETER MURPHY CLASSIC THIS Saturday
admin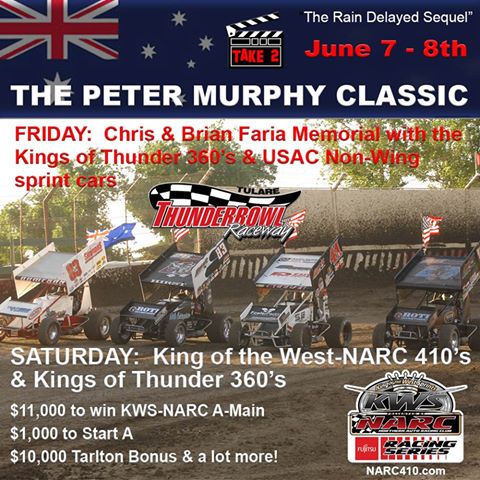 6/4/19, Sacramento, CA, Jim Allen … Mother nature might have got the better of the Sixth Annual Peter Murphy Classic three weekends ago, but that has just built up the anticipation for the rain-delayed sequel this weekend. The King of the West-NARC Fujitsu 410 Sprint Car Series will be battling for as much as a $21,000 winners share on Saturday, June 8th when the best drivers in California tackle the one-third mile Thunderbowl Raceway in Tulare. Also on the racing card will be the Kings of Thunder 360 sprint cars.
This will cap a complete weekend of open wheel racing that also showcases the Kings of Thunder and USAC West Coast Sprint Cars at Friday night's Chris & Faria Memorial.
"We're just glad that we were able to get this race rescheduled," said event organizer and namesake Peter Murphy. "The stress level was high the last time we attempted to do this as it takes a lot of preparation to make this special event happen. However, I guarantee it's going to be worth the wait."
Since the rain out, Murphy has continued to solicit additional sponsorship support for the event that guarantees the winner of the 30-lap headliner a $11,000 payday. He has now added another huge bonus if the winner of the "Aussie Pole Shuffle" decides to accept the ultimate challenge by starting deeper in the 24-car feature line-up. If that driver decides to forgo the pole position and start 11th in the grid and goes on to win, that driver will earn another $10,000 from Tarlton & Sons. That has definitely got race teams buzzing about the possibilities of earning a career-best payday.
In addition to offering the largest purse of the year, the Peter Murphy Classic also raises a substantial amount of money for the NARC Benevolent Fund. Murphy was a benefactor of the not-for-profit fund after he was seriously injured in a 2013 sprint car accident that nearly ended his life. The NARC Benevolent Fund helped provide support during his long recovery process. Murphy has been "paying it forward" ever since as an ambassador for the sport of sprint car racing.
Leading an all-star contingent of drivers to Tulare will be current King of the West-NARC championship point leader DJ Netto of Hanford. Netto has been a model of consistency at this season's first three events, but hasn't captured an elusive King of the West-NARC feature since June 2017. In fact, in a somewhat strange aberration, only one driver in the current top ten has claimed a win during this 60th Anniversary season. And that would be Fresno's Dominic Scelzi, who claimed the opener at Kern County Raceway Park.
With that in mind, it's safe to say that every team in the pit area will be looking to notch a lucrative victory lane appearance on Saturday to move up in the points standings. Among them would be Hollister's Ryan Bernal; 2017 series champion Bud Kaeding; Rookie of the Year candidate Geoff Ensign of Sebastopol; Penngrove's Chase Johnson, and Roseville's Willie Croft.
There will also be several "wild card" drivers who are looking to steal the payday including Healdsburg's Rico Abreu; Saturday's Petaluma Speedway feature event winner Colby Copeland of Roseville; and three-time series champion Jonathan Allard, who is making a special appearance to compete at the event. Over 30 teams are expected to compete.
The King of the West-NARC racing format will feature qualifying, four heat-races, the Aussie Pole Shuffle dash, a Last-Chance event, and the high dollar 30-lap Fujitsu headliner co-sponsored by Nos Energy Drink, Elk Grove Ford, Daltons, Four C's and Tarlton & Son.
Adult reserved grandstand seats for the Peter Murphy Classic are $30, while general admission bleacher tickets are $25 each night. Kids 6-12 will be $15 in the grandstands and $13 in the bleachers. Senior grandstand seats will be $28 and senior bleacher tickets are $23. The front gate will open at 3 p.m., with heat races scheduled to begin at 6 p.m. Tickets can be purchased in advance by calling 559-688-0909. Tickets will also be available the day of the event.
The Merle Stone Chevrolet Thunderbowl Raceway is located at the Tulare County Fairgrounds on the corner of Bardsley and K Streets at 620 South K Street Tulare, California 93274. Camping is available for fans off turns three and four.
The Tulare Thunderbowl Raceway is located at the Fairgrounds in Tulare. Pit Gates open at 2:00 p.m. Front gates open at 4:00 p.m. The drivers meeting begins at 4:00 p.m. Qualifying starts at 5:00 p.m. Racing gets underway at 6:00 p.m. For more information, go to www.thunderbowlraceway.com or www.petermurphyclassic.com.
Tickets prices are Adult Grandstand $30; Adult Bleacher $25; Senior Grandstands $28; Senior Bleacher $23; Kids 6-12 Grandstands $15; & Kids 6-12 Bleacher $13. Kids 5 and under are free.
ED NOTE: Race fans can contribute to the NARC Benevolent Fund. Make checks payable to: "NARC Benevolent Fund" and mail c/o Kaeding Performance Center 813 Cristich Lane, Campbell, CA 95008. For more information on the fund, call 408-371-3031. Fans can also make tax deductible donations to the NARC Benevolent Fund at King of the West-NARC events at the display near the Bullet Impressions Concession trailer.
The King of the West-NARC Fujitsu Racing Series is also sponsored by Hoosier Racing Tires and Hydrochem PSC. Associate and contingency award sponsors include ATL Racing Cells, Automotive Racing Products (ARP), Autometer, Brown & Miller Racing Solutions, ButlerBuilt, FK Rod Ends, Hooker Harness, Johnstone Supply, Kaeding Performance Center, KSE Racing Products, Maxim, PAC Racing Springs, Pyrotect, Racing Optics, Safecraft Safety Equipment, Saldana Racing Products, Schoenfeld Headers, SCI Racing Products, Swift Metal Finishing, Sunnyvalley Bacon, System 1 Ignition, Ultra Light Brakes, Weld Racing Wheels, Wilwood Disc Brakes, Williams Roofing, and Winters Performance Products.
All King of the West-NARC events are available on PPV on Speed Shift TV – https://www.speedshifttv.com/
UPCOMING EVENTS:
June 21 – Ocean Speedway, Watsonville, CA – Pombo-Sargent Classic
June 22 – Stockton Dirt Track, Stockton, CA (venue change from Calistoga)
June 29 – Placerville Speedway, Placerville, CA – W/Sprint Car Challenge Tour
2019 CHAMPIONSHIP STANDINGS
King of the West-NARC Fujitsu 410 Sprint Car Series (5/28/19)
After two events in the 19-race series
DJ Netto, Hanford – 346
Ryan Bernal, Hollister – 333
Bud Kaeding, Campbell – 331
Geoff Ensign, Sebastopol (R) – 330
Dominic Scelzi, Fresno (1) – 326
Chase Johnson, Penngrove – 325
Willie Croft, Roseville – 325
Nathan Rolfe, Atwater – 313
Kyle Offill, Tracy (R) – 310
Kenny Allen, Chico – 302
Tim Estenson, Fargo ND (R) – 301
Stephen Ingraham, Fair Oaks (R) – 297
Sean Watts, Atwater – 296
Matt DeMartini, Oakley (R) – 263
Jenna Frazier, Sacramento – 254
Shane Golobic, Elk Grove – 228
Colby Copeland, Roseville (1) – 227
Mitchell Faccinto, Hanford – 205
Richard Brace Jr., Auburn – 194
Justin Sanders, Aromas (1) – 117
SOCIAL MEDIA INFORMATION
Website: www.NARC410.com
Facebook: www.facebook.com/kingofthewestsprints
Twitter: https://twitter.com/NARC410
Instagram: www.instagram.com/narc410
YouTube: NARC410