Kings of Thunder Winged 360 Sprint Car Series to debut in 2019
admin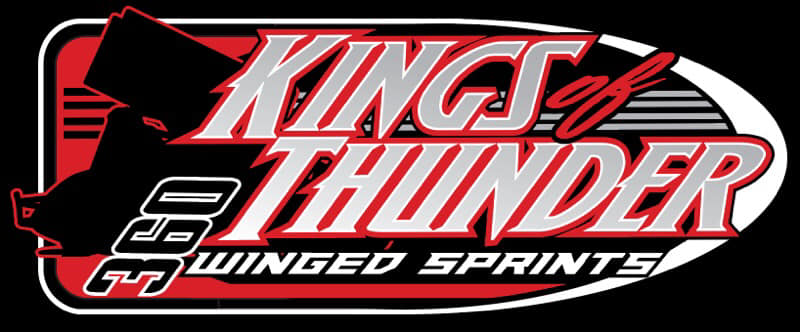 Kings of Thunder Winged 360 Sprint Car Series set to debut in the Central Valley
By Gary Thomas
December 8, 2018…Following months of discussion and planning a brand new Winged 360 Sprint Car tour is set to debut in the Central Valley next season with the "Kings of Thunder Series" ready to launch its inaugural campaign in 2019.
The Kings of Thunder Series will be held across two tracks this coming year, with eight events taking place at the Keller Auto Speedway in Hanford and six shows occurring at the Merle Stone Chevrolet Thunderbowl Raceway in Tulare.
A total of four events will be co-sanctioned with the Sprint Car Challenge Tour presented by Elk Grove Ford and Abreu Vineyards, including the Peter Murphy Classic in Tulare and the Cotton Classic in Hanford. The Kings of Thunder 360's will also compete alongside the World of Outlaws Craftsman Sprint Car Series on March 9th in Tulare.
The new series was formed between Keller Auto Speedway Promoter Brandon "Bubby" Morse and Thunderbowl Raceway events director Scott Woodhouse. The 14-race tour will feature a $10,000 total point fund during the inaugural season and allows two throwaway events for teams during the year.
"We are really excited to form this two-track series for the upcoming 2019 season," commented Morse. "We have a great group of racers down here in the Central Valley and definitely believe this will add a boost to the Winged 360 Sprint Car programs at both Keller Auto Speedway and Thunderbowl Raceway. The Kings of Thunder Series is something that we have worked on for a while and are glad to see it come to fruition. As of now there are only three total conflicts with SCCT and King of the West, which we tried to keep at a minimum."
Merle Stone Chevrolet Thunderbowl Raceway event director Scott Woodhouse shared the same sentiment. "This is certainly a positive step for all involved by tying in a Winged 360 Sprint Car point series for both Hanford and Tulare. The teams we have spoken with already are very enthused about the Kings of Thunder Series and we hope to see it grow. Co-sanctioning four of the nights with the Sprint Car Challenge Tour is a big thing as well, so we hope all the teams and fans will get behind it."
The Kings of Thunder season will open on Saturday February 23rd at Keller Auto Speedway and concludes with a non-point Winged 360 Sprint Car "Turkey Night" event in Hanford on Saturday November 16th.
Kings of Thunder Winged 360 Sprint Car Series 2019 schedule
Saturday February 23: Keller Auto Speedway in Hanford
Saturday March 9: Merle Stone Chevrolet Thunderbowl Raceway in Tulare (alongside World of Outlaws)
Saturday April 20: Keller Auto Speedway
Saturday April 27: Merle Stone Chevrolet Thunderbowl Raceway
Saturday May 4: Merle Stone Chevrolet Thunderbowl Raceway
Saturday May 11: Keller Auto Speedway
Friday May 17: Merle Stone Chevrolet Thunderbowl Raceway (Peter Murphy Classic with SCCT)
Saturday May 18: Merle Stone Chevrolet Thunderbowl Raceway (Peter Murphy Classic with SCCT)
Saturday June 15: Keller Auto Speedway (with Sprint Car Challenge Tour)
Saturday June 22: Keller Auto Speedway
Saturday August 10: Keller Auto Speedway
Saturday September 7: Keller Auto Speedway
Saturday September 28: Merle Stone Chevrolet Thunderbowl Raceway
Saturday October 12: Keller Auto Speedway (Cotton Classic with SCCT)
Saturday November 16: Keller Auto Speedway (Winged 360 Turkey Night non-points)