KWS-NARC/ Kings of Thunder 360s and RaceSaver Sprints invade Tulare Friday
admin
TULARE & SANTA MARIA SET TO HOST NARC-KING OF THE WEST DOUBLEHEADER
(7/19/21) Sacramento, CA … This weekend brings the second doubleheader of the 2021 NARC King of the West Fujitsu Sprint Car campaign with the "Chris and Brian Faria Memorial" at Tulare's Thunderbowl Raceway kicking off two nights of racing on Friday, July 23rd. The following night, July 24th, showcases the "Winged Madness" night at Nipomo's Santa Maria Raceway, in an event that will feature a Wheelie Contest.
Friday's event in Tulare honors the two brothers of the Faria family. Chris showed promise as a racer before sadly losing his life in a farming incident in 1993. Brian helped with the operation of the Thunderbowl before he passed in an automobile accident in 2006.
Saturday's show not only offers a full program of NARC-KWS action at Santa Maria, but also what is sure to be a thrilling Hammerdown!/Kimo's Tropical Car Wash Wheelie Contest. Having made a habit of taking checkered flags with the front end aimed at the sky, Tim Kaeding must be the early favorite. However, he'll have some stout competition in pursuit of the $1,000 prize.
On Friday at Tulare the NARC-KWS 410 Sprint Cars will be joined by the Kings of Thunder Winged 360 Sprint Cars and Western RaceSaver Sprints. On Saturday at Santa Maria RaceSaver Winged Sprints, Winged California Lightning Sprints and the Legends of Kearney Bowl are also on the card.
Both events should combine to provide a must-see weekend of racing. The Thunderbowl is known to provide some of the most intense, high-velocity action on the schedule. May's Peter Murphy Classic in Tulare featured a slider-fest to decide the outcome. Santa Maria's most recent race in 2019 saw three different leaders and an exciting final lead change with only two laps left.
Heading into the weekend, Campbell's Bud Kaeding is looking to rebound after an Ocean Speedway DNF trimmed his point lead to just one marker. Tulare should be a place to get the 2017 titlist back on track. Kaeding has eleven top-5s in his last twelve series starts at the Thunderbowl and led the opening 23-laps of this year's Peter Murphy Classic. Bud also scored a solid third place finish in the series' most recent visit to Santa Maria.
The reigning series champ DJ Netto should be up front both nights as he looks to jump from third to first in the points podium. The Hanford native carries a streak of twelve consecutive series top-10s at the Thunderbowl and earned his first career series victory at the 3/8ths mile in the 2015 Faria Memorial. He's also scored top-5s in the last two series appearances at Santa Maria.
A preview for these two facilities cannot go without mention of Dominic Scelzi. The driver out of Fresno has four Thunderbowl victories this year including an $11,000 NARC-KWS triumph as part of his Peter Murphy Classic sweep in May. Scelzi also took home the win the last time NARC visited Santa Maria in 2019. He's just a single point behind Bud Kaeding in the championship chase heading into the weekend.
The trio above are just a few who will be on hand this weekend. Other expected entries include two time feature winner in 2021 and two time series titlist Tim Kaeding of San Jose, Aromas' Justin Sanders, Tarlton Motorsports pilot Corey Day, Mitchell Faccinto from Hanford, Morgan Hill driver JJ Ringo, Ryan Robinson of Foresthill, Willie Croft, Billy Aton, Kenny Allen and more.
The NARC King of the West Hoosier Tire format for both events will feature ARP Fast Time Qualifying, three 10-lap Brown and Miller Racing Solutions Heat Races, a 6-lap Sunnyvalley Bacon Trophy Dash, and the Fujitsu 30-lap feature.
For the Chris and Brian Faria Memorial at Tulare, the gates will open at 4:00 P.M. Hot laps are set for 5:00 P.M., qualifying at 6:00 P.M. and racing at 7:00 P.M. Pit passes are $40. Adult tickets for the main grandstands are $25 and the bleachers are $20. Seniors can access the grandstands for $23 and the bleachers for $18. Kids 6-12 grandstands tickets are only $13 and the bleachers are $10. Kids 5 and under are free.
For the Winged Madness event at Santa Maria, the pit gates will open at 1:00 P.M., and the front gates will follow at 4:00 P.M. The price for adult tickets is $30. Seniors will be admitted for $28. Kids 6-12 can get in for just $6. Kids 5 and under are free. Tickets can be purchased at the gate or online via the track's website: santamariaraceway.com.
Both events can be viewed live on floracing.com along with the entire NARC King of the West Fujitsu Sprint Car schedule.
The Thunderbowl Raceway is located on the Tulare County Fairgrounds at 620 S K St, Tulare, CA 93274. For more information call (559) 688-0909.
Santa Maria Raceway is located at 1900 Hutton Road, Nipomo, CA 93444. For more information call (805) 710-4407.
NARC King of the West Fujitsu 410 Sprint Car Series
Championship Points Standings (After seven events in 21-race series 7/19/21)
Bud Kaeding, Campbell – 771
Dominic Scelzi, Fresno – 770
DJ Netto, Hanford – 767
Tim Kaeding, San Jose – 748
Sean Becker, Roseville – 741
Billy Aton, Benicia (R) – 738
Justin Sanders, Aromas – 730
Sean Watts, Clovis – 719
Kenny Allen, Chico – 583
Shane Golobic, Elk Grove – 560
Mitchell Faccinto, Hanford – 525
Austin McCarl, Altoona, IA – 524
Joel Myers Jr, Sebastopol (R) – 518
Kyle Offill, Tracy (R) – 481
Geoffrey Strole, Hanford (R) – 475
Kyle Hirst, Paradise – 427
Willie Croft, Colfax – 421
Mitchel Moles, Raisin City – 397
Ryan Robinson, Foresthill (R) – 322
Blake Carrick, Lincoln – 320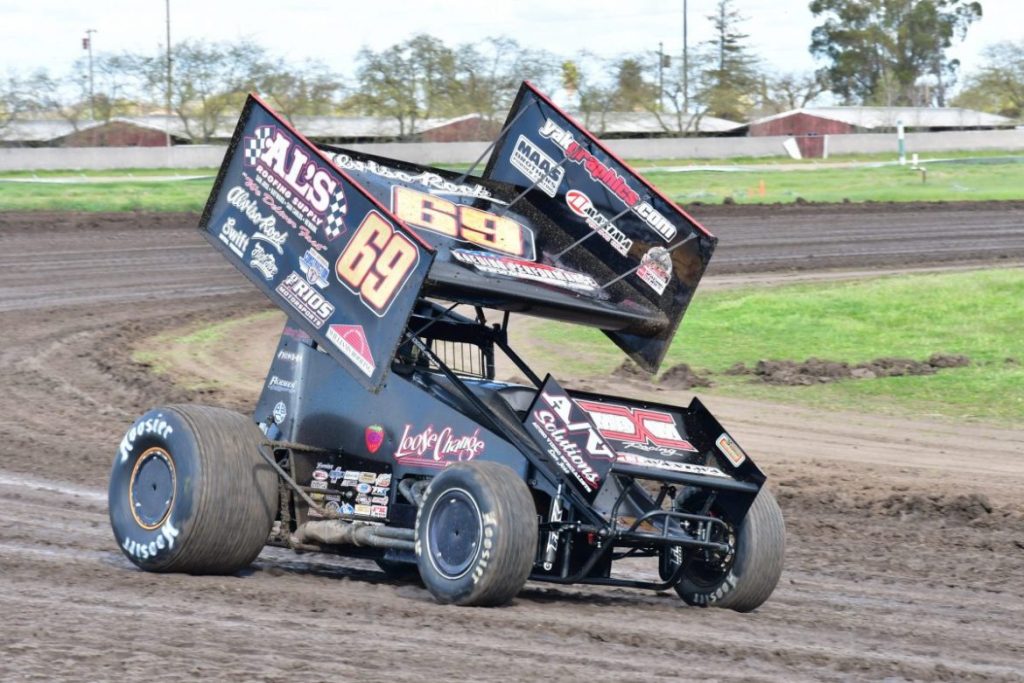 Image courtesy of Donna Peter