PETER MURPHY CLASSIC ON TAP FOR KING OF THE WEST-NARC SPRINT CARS
admin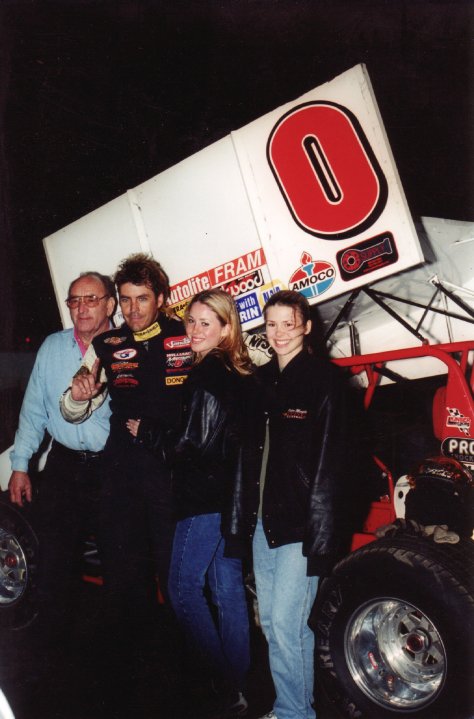 (5/15/18) Sacramento, CA … The highly anticipated Peter Murphy Classic at the Tulare Thunderbowl Raceway will take place this Friday and Saturday, May 18-19 with an exciting open wheel extravaganza of sprint car racing.
The weekend kicks off with the Sprint Car Challenge Tour (SCCT) and West Coast Sprint Car non-wing Series. The WCS sprint cars will return on Saturday for the headline act that will feature the King of the West-NARC Fujitsu Racing Series in a full-slate of championship points racing action.
This marks the fifth stop on the ultra-competitive 16-race King of the West-NARC schedule. The series has already produced four different winners. The popular Peter Murphy Classic event is hosted by former Northern Auto Racing Club driver Peter Murphy and helps raise awareness for the non-profit NARC Benevolent Fund.
The Australian driver was in the midst of a successful open wheel racing career, when it was suddenly cut short in a violent accident at Antioch Speedway in 2013. He suffered a variety of injuries including traumatic brain injury, ligament damage in his neck, shoulder and knees, along with compressed vertebra. During his long and painful recovery process that put a sudden end to his livelihood, Murphy received the generous support of the racing community and the NARC Benevolent Fund.
"This race represents my way of giving back to the open wheel community for helping my family and I during my time of need," explained Murphy. "We would also like to raise some money for the NARC Benevolent Fund, so that if needed, we can offer that same type of support to other racing families in the same situation."
Murphy solicits the support of local businesses, racing sponsors and vendors to increase the total purse to about $40,000 on Saturday night. Tachi Palace Hotel & Casino, Karsyn Construction, Red Rose Transportation, Southern Pacific Farms, Shaw's Structure's Unlimited, Funkhouser Motorsports, Chris Messenlehner Welding, Kent Performance Center, Kiwi Transport, DeBoer & Sons Trucking, and Southwest Contractors are among the major supporters.
Leading an all-star cast of drivers into Tulare will be current King of the West-NARC point leader Kyle Hirst of Paradise, CA. Hirst currently holds a slim 10-point advantage over Elk Grove driver Shane Golobic in the championship standings (368-358.)
"When the schedule comes out at the beginning of the year, this is one that I circle with a highlighter," admitted Hirst, who claimed the Peter Murphy Classic headliner in 2016. "It pays the most to win of any race on the King of the West-NARC calendar and to win it, you have to beat the best drivers in California."
Defending series champion Bud Kaeding of Campbell, who is currently third in points, claimed the 2017 running of the event and pocketed $11,000 for his efforts. Kaeding knows the one-third mile oval about as well as anyone. The third-generation driver engaged in a thrilling battle with Hirst at the April 21st event, claiming the feature victory in a photo-finish at the checkered.
"My goal is to make it two-in-row," said Kaeding. "But this race is more than just about winning. It's about supporting a great racing event, a great ambassador to the sport (Peter Murphy), and a good cause (NARC Benevolent Fund.)"
Also expected in the 35-car King of the West-NARC line-up is Chase Johnson of Penngrove; Roseville driver's Willie Croft and Colby Copeland; Mitchell Faccinto and DJ Netto of Hanford; Atwater drivers Sean Watts and Nathan Rolfe; Jason Statler of Grass Valley; rookie of the year candidates Dustin Golobic of Fremont and Jenna Frazier of Sacramento; Nevada driver Tanner Thorsen, and Dominic Scelzi of Fresno.
The King of the West-NARC racing format includes qualifying, four heat-races, a trophy dash, and the 30-lap Fujitsu/Hoosier sponsored headliner. Also on the racing card are the vintage cars of the Legends of Kearney Bowl.
The Tulare Thunderbowl Raceway is located at the Fairgrounds in Tulare. Pit Gates open at 2:00 p.m. Front gates open at 4:00 p.m. Qualifying starts at 6:00 p.m. For more information, go to www.thunderbowlraceway.com or www.petermurphyclassic.com
Fans can make tax deductible donations to the NARC Benevolent Fund at King of the West-NARC events at the display near the Bullet Impressions Concession trailer. There will be an auction of a special commemorative front wing that is autographed by all the drivers in competition. All funds go to the NARC Benevolent Fund.
ED NOTE: Sprint car ambassador and former driver Brad Doty will be a special guest at the Peter Murphy Classic.
ED NOTE: There will be a driver autograph session at the front gate from 4:00 – 4:30 p.m. on Saturday.
2018 KWS-NARC FUJITSU SERIES POINT STANDINGS
(After four events in 16-race Series – 05/14/18)
Kyle Hirst, Paradise (1) 368
Shane Golobic, Fremont (1) 358
Bud Kaeding, Campbell (1) 341
Chase Johnson, Penngrove 339
Mitchell Faccinto, Hanford 331
Jason Statler, Grass Valley 322
Dustin Golobic, Fremont ® 315
Colby Copeland, Roseville 312
Sean Watts, Atwater 294
Nathan Rolfe, Atwater 278
Jenna Frazier, Sacramento ® 276
Willie Croft, Roseville (1) 260
DJ Netto, Hanford 256
Tanner Thorson, Minden, NV 256
Dominic Scelzi, Fresno 247
Bobby McMahan, Elk Grove 237
Jarrett Soares, Discovery Bay 222
Mathew Moles, Fresno 221
Mark Barraso, Merced 218
Justin Sanders, Watsonville 166
The King of the West-NARC Fujitsu Racing Series is also sponsored by Hoosier Racing Tires. Associate and contingency award sponsors include ATL Racing Cells, Automotive Racing Products (ARP), Autometer, Brown & Miller Racing Solutions, Butler Built, FK Rod Ends, Flowmaster, Hooker Harness, HydrochemPSC, Johnstone Supply, Kaeding Performance Center, KSE Racing Products, Maxim, PAC Racing Springs, Pyrotect, Racing Optics, Safecraft Safety Equipment, Saldana Racing Products, Schoenfeld Headers, SCI Racing Products, Swift Metal Finishing, Sunnyvalley Bacon, System 1 Ignition, Ultra Light Brakes, Weld Racing Wheels, Wilwood Disc Brakes, Williams Roofing, Winters Performance Products and Croft Racing.
UPCOMING EVENTS:
June 2nd – Thunderbowl Raceway, Tulare, CA – Faria Memorial
June 9th – Petaluma Speedway, Petaluma, CA
June 22nd – Ocean Speedway, Watsonville, CA – Pombo-Sargent Classic
June 23rd – Calistoga Speedway, Calistoga, CA – Wine Country Classic with Civil War Sprint Cars
June 30th – Placerville Speedway, Placerville, CA – "Salute to the Fans" with SCCT Sprint Cars
SOCIAL MEDIA INFORMATION:
Website: www.NARC410.com
Facebook: www.facebook.com/kingofthewestsprints
Twitter: https://twitter.com/NARC410
Instagram: www.instagram.com/narc410
TheCushion.com – Video on Demand