Sonoma Raceway to sponsor High Limit Racing Season Opener at Thunderbowl Raceway
admin
NASCAR Champion Kyle Larson Will Race First Ever Xfinity Series Race at Sonoma Raceway!
SONOMA, Calif. (March 8, 2023) – NASCAR Cup Series champion and Northern California native Kyle Larson will race in the first-ever DoorDash 250 Xfinity Series race at Sonoma Raceway June 10, 2023. Fans at the Toyota/Save Mart 350 NASCAR Cup Series race weekend June 9-11 will now have two chances to see the 2021 race winner tackle the only west-coast road course on the NASCAR schedule.
"Really excited to get the opportunity to run the Xfinity race at Sonoma Raceway in our #17 HendrickCars.com Chevrolet," said Larson. "I always love racing at Sonoma as it's considered my home track being just a few hours away from where I grew up, and too, it's a special place for me as I definitely see more fans wearing our No.5 apparel around the track."
To celebrate Larson's participation in the race as the home town hero, Sonoma Raceway has a special ticket offer for Larson fans to attend the Xfinity Series race for free. When fans purchase a Sunday NASCAR Cup series ticket in the Turn 9 terrace for the Toyota/Save Mart 350 they will receive a free Saturday ticket to watch both the Xfinity Series race, and the NASCAR Cup Series practice and qualifying for a great day of on-track action. An exclusive benefit of this ticket will be access to a meet & greet with Kyle Larson on Saturday with bonus giveaway items.
Kicking off a promotion of west coast racing with great fan experiences, Sonoma Raceway is sponsoring the season opener of the High Limit Sprint Car Series March 21 with a $23.023-to-win non-points event at Thunderbowl Raceway in Tulare, California. The sprint car series was launched last year by Larson and co-promoter, brother-in-law Brad Sweet, the four-time defending World of Outlaws series champion. This "Family Feud" showdown marks the 10-year reunion of Larson and Sweet's epic ending to the 2013 Trophy Cup, and is in cooperation with FloRacing, a premiere live streaming platform for motorsports and short track racing.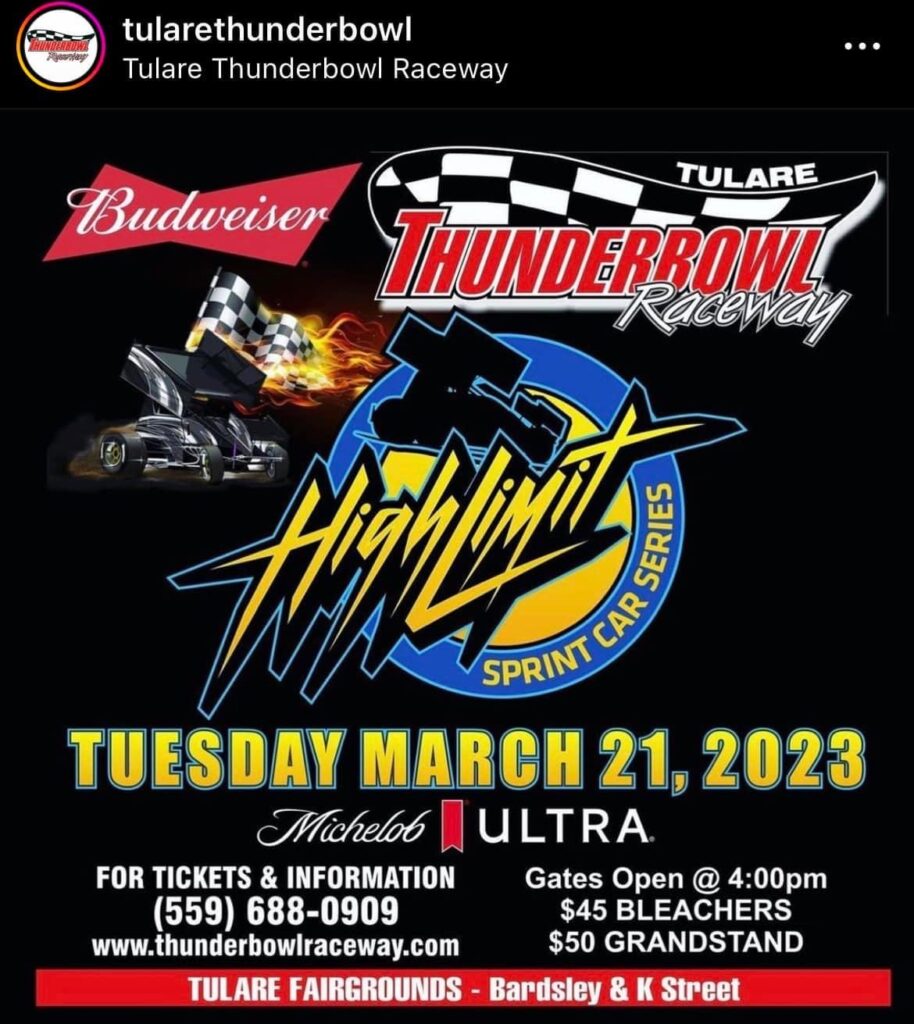 Fans attending the March 21 event will have the chance to purchase their Kyle Larson ticket package for the Sonoma race in person and secure their free Saturday ticket and meet & greet experience. Season tickets for 2023 Sonoma Raceway events are available now at SonomaRaceway.com
For more information contact:
Brandy Falconer
Director of Communications
BFalconer@SonomaRaceway.com
O: 707-933-3981 | C: 707-231-6005
SonomaRaceway.com/Media
Social media: @racesonoma
High Limit Sprint Car Series:
The High Limit Sprint Car Series features top 410 sprint car drivers from around the country battling for industry-leading purses during mid-week events. The series was launched in the summer of 2022 by Kyle Larson, 2021 NASCAR Cup Series Champion, along with co-promoter Brad Sweet, the four-time defending World of Outlaws Series Champion. The first, full 12-race season launches in 2023 with support and live streaming coverage provided by FloRacing.
Sonoma Raceway:
Sonoma Raceway is a 2.52-mile and 12-turn road course and quarter-mile drag strip located at Sears Point in Sonoma County, California. Built in 1968 the track is carved into rolling hills with 160 ft of total elevation change. It is host to one of the few NASCAR Cup Series races each year that are run on road courses. It is one of the world's busiest racing facilities, with track activity scheduled an average of 340 days a year. A complete and versatile motorsports complex, it is home to one of the nation's only high-performance automotive industrial parks with approximately 70 tenants.