The NARC Fujitsu 410 Sprint Cars blast into Thunderbowl Raceway Friday for the Murphy
admin
TULARE AND HANFORD WELCOME NARC FOR PETER MURPHY CLASSIC
(5/9/22) Sacramento, CA … This weekend will bring a double dose of the NARC Fujitsu General 410 Sprint Cars as the series will compete on both nights of the highly anticipated Peter Murphy Classic, Friday, May 13th at Tulare's Thunderbowl Raceway and the $11,000 to win finale at Hanford's Keller Auto Speedway on Saturday, May 14th.
This year marks the eighth edition of the popular staple of the California sprint car circuit. The two races are promoted by Murphy himself and are his way of giving back to the racing community that helped him following his career-ending crash in 2013.
Murphy's efforts always lead to a lucrative purse, especially the Saturday portion which not only awards $11,000 to the winner, but also $1,000 to start the Fujitsu General feature event. Saturday night will be the second highest purse of the 2022 NARC season, behind only Skagit Speedway's Super Dirt Cup. The race also helps raise money for the NARC Benevolent Fund, the not-for-profit that helps injured racer's families in times of need.
The weekend will have no shortage of sprint car action as the Sprint Car Challenge Tour 360 Sprint Cars will join NARC in both Tulare and Hanford.
Friday and Saturday will mark races three and four of the 2022 NARC Fujitsu General Sprint Car campaign. (The April 10th race has yet to be rescheduled.)
Championship Chase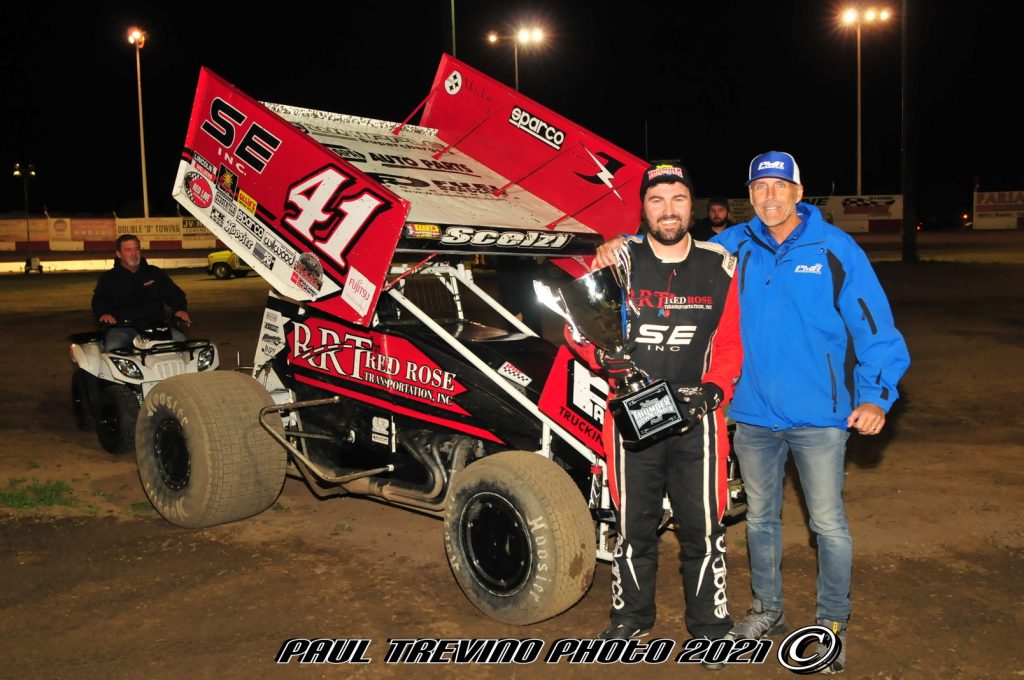 It only took two races for last year's NARC titlist, Dominic Scelzi, to take over the 2022 point lead. Back-to-back podium finishes to kick off the campaign have given the Fresno driver the top spot with a current tally of 228 points.
Four points behind Scelzi holding the runner-up position is Aromas' Justin Sanders, and a mere five points separate the drivers in spots two through five. Sanders (224 points) leads the way with Corey Day (223), Shane Golobic (222), and Tanner Carrick (219) just behind him.
Not much farther back are four full-time drivers in positions six through nine. Mitchell Faccinto is sixth with 217 points, and Willie Croft (213), Bud Kaeding (213), and Tim Kaeding (207) fill out the three spaces behind him.
Who to Watch
The point leader, Dominic Scelzi, stands out as a strong favorite for both nights. Last year "The Dominator" swept all four features of the Peter Murphy Classic. Scelzi also went on to claim the Chris and Brian Faria Memorial at Tulare in July last year and the opening feature of the Morrie Williams Memorial in Hanford. If Scelzi can win the opening night at Tulare, he'll join Brent Kaeding, Jason Meyers, and Kyle Hirst as the only drivers to win three consecutive NARC events at the Thunderbowl.
"I know we've got points on the line both nights with NARC," Scelzi said. "But in reality, we're more worried about rolling in there and trying to win races… We want to hang it all out, put it on the line, and do the best job we can to, hopefully, win all four of them."
Another former champion, Campbell's Bud Kaeding, promises to be a threat especially at the Thunderbowl. In his last 13 NARC starts in Tulare, Kaeding has amassed two wins, eight podiums, eleven top-fives and twelve top-10s. His lone finish outside the top-10 during that stretch likely would've been a win if it weren't for a final lap accident in the 2019 Peter Murphy Classic. Kaeding is also a four-time series feature winner in Hanford.
Keeping with the pattern of past champions who own impressive records at the pair of central valley tracks, 2019 titlist D.J. Netto may pick up his first win since last year's season opener this weekend. The Thunderbowl is the site of the Hanford native's inaugural series victory back in 2015, and he's carrying a streak of 13 consecutive NARC top-10s at Tulare with a 5.5 average finish over that span. Netto is yet to win a NARC race at Keller Auto Speedway, but he's been strong at his home track with his best series finishes there being a pair of runner-ups.
Former NARC winners at one or both tracks who will be aiming for more success this weekend include San Jose's Tim Kaeding, Fremont's Shane Golobic, Hanford's Mitchell Faccinto, Colivs' Corey Day, and Colfax's Willie Croft.
Other drivers expected to compete include Hanford's Michael Faccinto, Sebastopol's Joel Myers Jr., Benicia's Billy Aton, Roseville's Colby Copeland, Idaho's Logan Forler, Oregon's Tanner Holmes, Yuba City's Landon Brooks, Sacramento's Angelique Bell and more.
Fan & Competitor Info
The NARC-King of the West Hoosier Tire format for Friday and Saturday will feature ARP Fast Time Qualifying, 8-lap Heat Races, a Sunnyvalley Bacon Pole Shuffle, a Kaeding Performance Semi and the Fujitsu General USA 30-lap Feature.
On Friday the Thunderbowl pit gate will open at 1:00 P.M. while the front gate will open at 4:00 P.M. Hot laps are scheduled for 5:00 P.M. with qualifying and racing to follow.
On Saturday in Hanford the pit gate will open at 1:00 P.M. and the front gate at 4:00 P.M. The drivers meeting is scheduled for 4:30 with cars on track for wheel pack, hot laps, and qualifying after the pit meeting.
Tickets for the main grandstands on Friday at the Thunderbowl will cost $30 while the bleachers will be $25. Seniors can purchase tickets for the grandstands for $28 and bleacher seats for $23. Kids ages 6-12 can access the grandstands for just $15 and the bleachers for $13. Kids 5 and under are free. Tickets can be purchased at the gate.
Saturday's tickets in Hanford will cost $25 for Adult General Admission. Seniors ages 62+, military with valid ID, and juniors ages 7-17 will all be admitted for the discounted price of $20.
Tickets can be purchased at the gate or online via the following link: https://www.myracepass.com/events/394395/tickets/.
The Thunderbowl Raceway is located on the Tulare County Fairgrounds at 620 S K St, Tulare, CA 93274. For more information call (559) 688-0909.
Keller Auto Speedway is located on the Kings County Fairgrounds at 801 South 10th Avenue Hanford, CA 93230. For more information visit racekingsspeedway.com or email kellerautospeedway@yahoo.com.
Peter Murphy Classic Winners
2014: Jonathan Allard
2015: Aaron Reutzel
2016: Kyle Hirst
2017: Bud Kaeding
2018: Shane Golobic
2019: Rico Abreu
2020: canceled due to COVID-19
2021: Dominic Scelzi
2022 NARC King of the West Fujitsu 410 Sprint Car Series
Championship Points Standings (After two events in 25-race series)
Dominic Scelzi, Fresno – 228
Justin Sanders, Aromas – 224
Corey Day, Salinas – 223
Shane Golobic, Elk Grove – 222
Tanner Carrick, Lincoln – 219
Mitchell Faccinto, Hanford – 217
Willie Croft, Colfax – 213
Bud Kaeding, Campbell – 213
Tim Kaeding, San Jose – 207
Blake Carrick, Lincoln -204
Tanner Holmes, Jacksonville, OR – 202
Michael Faccinto, Hanford – 201
Joel Myers Jr, Sebastopol (R) – 199
Max Mittry, Redding (R) – 197
Billy Aton, Benicia (R) – 193
Logan Forler, Boise, ID (R) – 188
Geoffrey Strole, Hanford – 183
Angelica Bell, Sacramento (R) – 179
Colby Copeland, Roseville – 117
Sean Becker, Roseville – 112
The NARC Fujitsu General USA Racing Series is also sponsored by Hoosier Racing Tires and Floracing.com. Associate and product award sponsors include Automotive Racing Products (ARP), Brown & Miller Racing Solutions, Bullet Impressions, Dirt.Travel, FK Rod Ends, Johnstone Supply, Kaeding Performance Center, Kimo's Tropical Car Wash, KSE Racing Products, Maxim, Pyrotect, Roth Motorsports, Safecraft Safety Equipment, Saldana Racing Products, Schoenfeld Headers, SCI Racing Products, Scelzi Enterprises, Starr Property Management, Swift Metal Finishing, Sunnyvalley Bacon, System 1 Ignition, Ultra Lite Brakes, Vortex Wings, Wilwood Disc Brakes, and Winters Performance Products.
SOCIAL MEDIA INFORMATION
Website: www.NARC410.com
Facebook: https://www.facebook.com/NARCKingoftheWest
Facebook (history page): https://www.facebook.com/NARCSprintCarHistory
Twitter: https://twitter.com/NARC410
Instagram: www.instagram.com/narc410
YouTube: NARC410
Live Stream PPV: Floracing.com
UPCOMING EVENTS:
May 21 – Petaluma Speedway, Salute to First Responders
FASTEST FOUR DAYS IN MOTORSPORTS
May 26 – Southern Oregon Speedway, Central Point, OR – Fastest Four Days in Motorsprots
May 27 – Willamette Speedway, Lebanon, OR – Fastest Four Days in Motorsports
May 28 – Grays Harbor Raceway, Elma, WA – Fastest Four Days in Motorsports
May 29 – Grays Harbor Raceway, Elma, WA – Fastest Four Days in Motorsports
Images courtesy of Paul Trevino