Jac Haudenschild wins his third career Trophy Cup
admin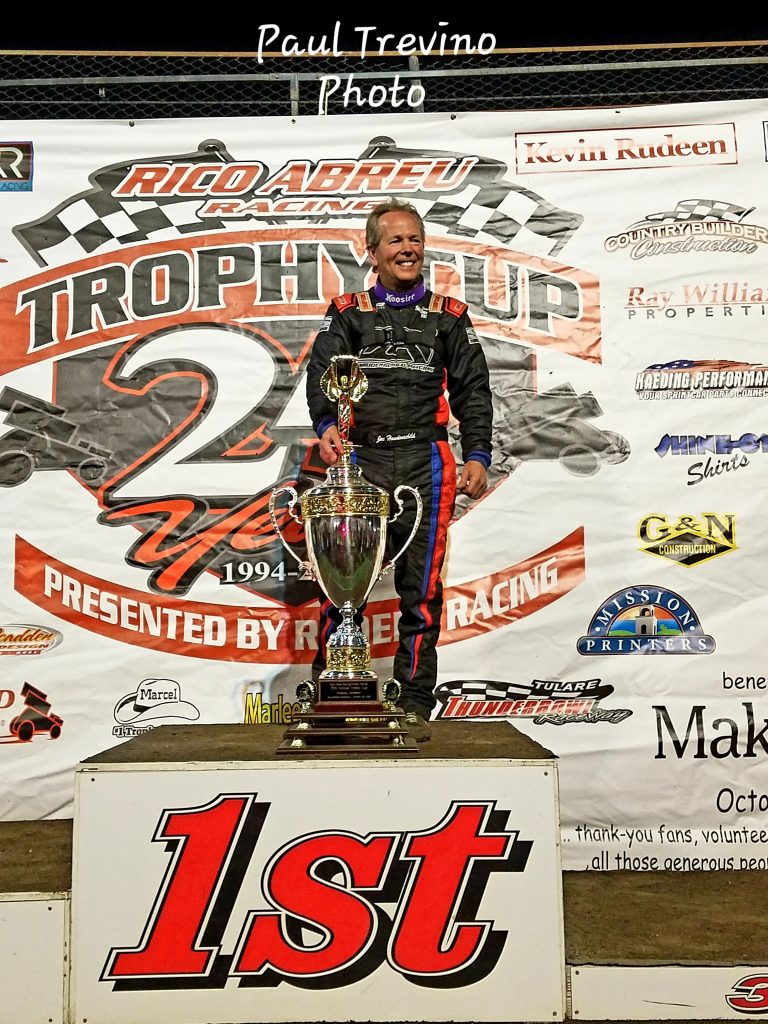 Haudenschild Takes Third Cup Title
by Ron Rodda
Tulare, CA…Jac Haudenschild accomplished an amazing task for the 60-year-old driver. At an age where many drivers have long retired, Haudenschild took his 3rd Trophy Cup title with 7 years between each championship.
Entering the 50 lap main event that closes the three-day show, Haudenschild was 7th in points. With 6 laps remaining following a red. Haudenschild was one spot ahead of a driver less than a third his age, Gio Scelzi. Whichever driver finished ahead of the other would win the Cup title unless Cory Eliason could mount a charge from 9th.
With a rubber down track, Haudenschild easily kept Scelzi at bay and won the crowd pleasing championship by two points over Scelzi. Eliason was 3rd in points, two back of Scelzi, and Justyn Cox tied Willie Croft for 4th, another two point gap behind Scelzi. With the faster qualifying time used for tie breaker, Cox claimed 4th in points.
The evening opened with a trio of D mains which moved cars up to the C main. Six completely inverted by points heat races followed, after which the top 20 in points went directly to the A main. The heats offered the usual 36 points to win with a 3 point drop.
A stacked B main moved 4 additional cars to the 24 car grid with the top 20 in points inverted. The 50 lap main includes a fuel stop around the halfway point.
Willie Croft and Aaron Reutzel shared the front row after Reutzel had the best heat run of the evening to just make the 20 car cutoff. Croft led 10 laps before Reutzel drove around the leader in turn 2 to take over the top spot.
Blake Hahn ran 3rd for the first 2 laps before flipping off of the turn 4 wall and Colby Copeland inherited the spot. Lap 24 was tough for Reutzel when he brushed the turn 4 wall and stopped in turn 1 with a flat right front.
Croft was back in the lead and led the final 27 laps to win over Copeland and Ryan Bernal. Michael Kofoid was 4th followed by 14th starting Haudenschild and 16th starting Gio Scelzi. Rico Abreu had to restart at the rear on lap 24 when a crew member worked on a jacobs ladder during an air only stop.
Haudenschild's title paid a Trophy Cup record $25,000 and Croft collected $4000 for the win plus additional point fund money. All main event starters will receive a minimum of $5000 for the three days total. The detailed payout will be released next week.
The 2019 Trophy Cup will be October 17-19 at Tulare Thunderbowl Raceway with another $200,000 purse paying $26,000 to win the championship.
A main…Willie Croft, Colby Copeland, Ryan Bernal, Michael Kofoid, Jac Haudenschild, Giovanni Scelzi, Shane Golobic, Justyn Cox, Cory Eliason, Carson Macedo, Tim Shaffer, Bud Kaeding, Dominic Scelzi, Mitchell Faccinto, Terry McCarl, Kalib Henry, Aaron Reutzel, Colton Heath, Jason Solwold, Tanner Thorson, D. J. Netto, Rico Abreu, Craig Stidham, Blake Hahn
Photo courtesy of Paul Trevino