KING OF THE WEST-NARC SPRINT CARS CHASE BIG PETER MURPHY CLASSIC PAYDAY
admin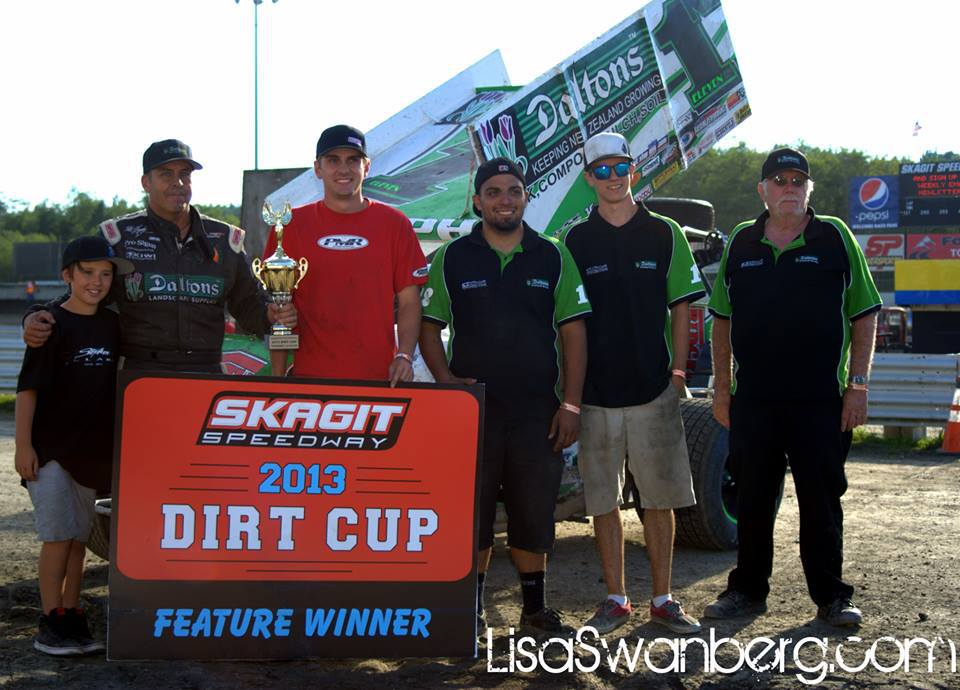 KING OF THE WEST-NARC SPRINT CARS CHASE BIG PETER MURPHY CLASSIC PAYDAY
5/14/19 – Jim Allen, Sacramento, CA … The winged 410 sprint car teams of the King of the West-NARC Fujitsu Racing Series will be focused on claiming a stout $11,000 payday at Saturday's (May 18th) Sixth Annual Peter Murphy Classic. This marks the second night of a popular two-day open wheel racing event that also features the Sprint Car Challenge Tour 360's and USAC West Coast wingless 360's sprint cars at the exciting Thunderbowl Raceway in Tulare.
The Peter Murphy Classic awards the biggest one-day purse of this season's King of the West 60th Anniversary campaign presented by the Northern Auto Racing Club. The event, the namesake of the former Northern Auto Racing Club sprint car driver who face life-threatening injuries in a frightening 2013 crash, is extremely popular with race fans and teams alike. Murphy has become the consummate ambassador for the sport and his efforts have helped raise tens of thousands of dollars for the NARC Benevolent Fund, a non-profit organization that assisted his family during his recovery.
"We have some great surprises lined up for sprint car fans this year," said Murphy. "We know the racing is going to be great so we have added several new promotions and celebrations to compliment the show. I would love to tell you what some of them are in advance, but I want you to show up and experience it for yourself. And bring a friend with you."
Heading a large contingent to the one-third mile bullring will be current championship point leader DJ Netto of nearby Hanford, CA. Although Netto has been a steady fixture in the King of the West-NARC top ten over the past five seasons, he has never led the championship chase. However, he has been a model of consistency at the first two-races of the season and owns a slim 229-228 margin over Shane Golobic of Elk Grove. Golobic captured last year's Peter Murphy Classic in a wild shootout during the final laps.
But with 17 more events remaining on this years campaign, it's still anybodies ball game. While consistency is necessary for a championship runs, open wheel teams have already stated that they are locked and loaded, and extremely focused on the largest winners share of the season. In addition, there is another $10,000 bonus up for grabs if an eligible driver takes and completes the Aussie Pole Shuffle challenge. Murphy will be laying out that challenge at Saturday's drivers meeting.
"We definitely have everybody's attention," continued Murphy, "ensuring that it will be a great show. Nobody is going to want to finish second on Saturday."
Others expected to compete in the star-stuffed line-up include Hollister's Ryan Bernal; 2017 series champ Bud Kaeding of Campbell; Fresno's Dominic Scelzi; Willie Croft and Colby Copeland from Roseville; Penngrove's Chase Johnson; Rookie drivers Geoff Ensign (Sebastopol), Kyle Offill (Tracy), Stephen Ingraham (Fair Oaks) and Matt DeMartini (Oakley); Atwater drivers Nathan Rolfe and Sean Watts; Hanford's Mitchell Faccinto; Chico's Kenny Allen; Jason Statler of Grass Valley; and women drivers Jenna Frazier of Sacramento and Chelsea Blevins of Susanville.
Aromas driver Justin Sanders, who won the May 4th Dave Bradway Jr. Memorial race in Chico, will also be in the field.
The King of the West-NARC racing format includes qualifying, four heat-races, the Aussie Pole Shuffle dash, and the high dollar 30-lap Fujitsu headliner co-sponsored by Daltons, Four C's and Tarlton & Son.
The Tulare Thunderbowl Raceway is located at the Fairgrounds in Tulare. Pit Gates open at 2:00 p.m. Front gates open at 4:00 p.m. The drivers meeting begins at 4:00 p.m. Qualifying starts at 5:00 p.m. Racing gets underway at 6:00 p.m. For more information, go to www.thunderbowlraceway.com or www.petermurphyclassic.com.
Tickets prices are Adult Grandstand $30; Adult Bleacher $25; Senior Grandstands $28; Senior Bleacher $23; Kids 6-12 Grandstands $15; & Kids 6-12 Bleacher $13. Kids 5 and under are free.
ED NOTE: Race fans can contribute to the NARC Benevolent Fund. Make checks payable to: "NARC Benevolent Fund" and mail c/o Kaeding Performance Center 813 Cristich Lane, Campbell, CA 95008. For more information on the fund, call 408-371-3031. Fans can also make tax deductible donations to the NARC Benevolent Fund at King of the West-NARC events at the display near the Bullet Impressions Concession trailer.
The King of the West-NARC Fujitsu Racing Series is also sponsored by Hoosier Racing Tires and Hydrochem PSC. Associate and contingency award sponsors include ATL Racing Cells, Automotive Racing Products (ARP), Autometer, Brown & Miller Racing Solutions, ButlerBuilt, FK Rod Ends, Hooker Harness, Johnstone Supply, Kaeding Performance Center, KSE Racing Products, Maxim, PAC Racing Springs, Pyrotect, Racing Optics, Safecraft Safety Equipment, Saldana Racing Products, Schoenfeld Headers, SCI Racing Products, Swift Metal Finishing, Sunnyvalley Bacon, System 1 Ignition, Ultra Light Brakes, Weld Racing Wheels, Wilwood Disc Brakes, Williams Roofing, and Winters Performance Products.
All King of the West-NARC events are available on PPV on Speed Shift TV – https://www.speedshifttv.com/
June 1 – Petaluma Speedway, Petaluma, CA
June 21 – Ocean Speedway, Watsonville, CA – Pombo-Sargent Classic
June 22 – Stockton Dirt Track, Stockton, CA (Venue Change)
June 29 – Placerville Speedway, Placerville, CA – W/Sprint Car Challenge Tour
2019 CHAMPIONSHIP STANDINGS
King of the West-NARC Fujitsu 410 Sprint Car Series (5/14/19)
Shane Golobic, Elk Grove – 228
Ryan Bernal, Hollister – 221
Bud Kaeding, Campbell – 220
Geoff Ensign, Sebastopol (R) – 217
Chase Johnson, Penngrove – 217
Dominic Scelzi, Fresno (1) – 215
Willie Croft, Roseville 214
Nathan Rolfe, Atwater – 207
Kyle Offill, Tracy (R) – 205
Mitchell Faccinto, Hanford – 205
Tim Estenson, Fargo ND (R) – 198
Sean Watts, Atwater – 197
Stephen Ingraham, Fair Oaks (R) – 195
Jenna Frazier, Sacramento – 179
Matt DeMartini, Oakley (R) – 165
Justin Sanders, Aromas (1) – 117
Tim Kaeding, San Jose – 1113
Facebook: www.facebook.com/kingofthewestsprints
Twitter: https://twitter.com/NARC410
Instagram: www.instagram.com/narc410