Terry McCarl & Carson Macedo add more star power to Trophy Cup October 18, 19 & 20
admin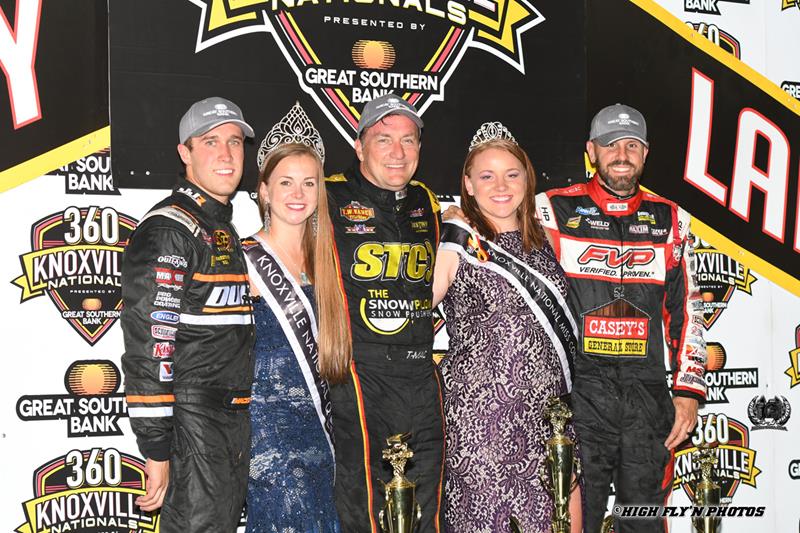 The top-two finishers in this years Knoxville Raceway 360 Nationals will both be hoping to claim their initial Trophy Cup championship next week! Altoona, Iowa's Terry McCarl captured his fifth career Knoxville 360 Nationals title in August, while Lemoore, California's own Carson Macedo snagged second. Both will be contenders at the Rico Abreu Racing 25th Trophy Cup presented by Rudeen Racing.
Tickets continue to be on sale for the Rico Abreu Racing 25th annual Trophy Cup presented by Rudeen Racing with all seating in the house reserved during the weekend. Adult grandstand tickets cost $50 on Thursday and Friday and $55 on Saturday. Bleacher tickets are $45 on Thursday and Friday and $50 on Saturday. Kids pricing and senior pricing is also available.
A seating chart is online at www.thunderbowlraceway.com and tickets can be acquired by calling 559-688-0909. The pit gate opens at 10am on Thursday October 18, with the drivers meeting at 3:30pm sharp. Qualifying is scheduled for 4:45pm, with first race at 6:15pm.
All the special events that have become so popular are returning once again, including the Thursday Chili Dog Night sponsored by Taco Bravo, the Taco Bravo Fiesta Night on Friday and the Saturday afternoon spaghetti feed sponsored by La Villa Delicatessen. The post-race parties start 20 minutes after the checkered flag, while the spaghetti feed goes from 1:30pm to 3:30pm. A DJ will be on hand for music, with drinks available for purchase inside.
A Friday morning breakfast sponsored by the Tulare County Fairgrounds will also occur from 8am to 11am.
Thursday's Chili Dog Night features razor bike racing, which will have a $1,000 total purse. Entry's into the bike races are $10 and limited to 120 participants. Bikes have been sponsored by former champions Brent, Bud and Tim Kaeding, Willie Croft, Shane Golobic and Jason Meyers. The bikes will then be autographed by each and auctioned off after the event to benefit Make-A-Wish.
Friday's Fiesta Night will then bring back the popular "Dancing with the Stars" contest. During Saturday's Spaghetti Feed there will be a corn hole tournament that has a $40 entry fee. The winning team will receive $1,000, second place earns $650, third place gets $250, while fourth place receives $100. The corn hole tournament is sponsored by Osky Challenges, SE Inc., Hoosier Knoxville, Moyle Racing Engines, Soares Motorsports, Smith Titanium, HRP, Kustom Race Parts Knoxville, ART Speed Equipment and Maxwell Industries.
A donation to the Make-A-Wish Foundation at the door during all these events is appreciated. Over the last 24-years Dave Pusateri and the Trophy Cup team have raised over $1,570,000 in donations for the Make-A-Wish Foundation. Fans and teams are all encouraged to attend the special eating events. More info on the Trophy Cup, as well as an entry list can be found at www.trophycup.org
Image courtesy John Lee of High-Fly'n Photos